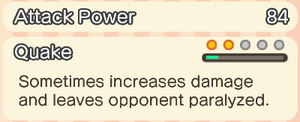 The Skill Gauge, along with Skill Levels, are a new feature introduced in the recent 3DS v1.3.10 update and Mobile v1.6.4 update. Each Pokémon's Skill can level up up to 5 times, increasing either its activation rate or damage modifier, and the Skill Gauge tracks the progress of each level. The Skill Gauge can be increased by Skill Boosters or Skill Boosters S/M/L. Some skills take longer to level than others.
This table shows the amount of skill points required to level each skill, depending on the skill itself and the current level. A Skill Booster is worth 1 point, a Skill Booster S is worth 3, a Skill Booster M is worth 10, and a Skill Booster L is worth 30.
Ad blocker interference detected!
Wikia is a free-to-use site that makes money from advertising. We have a modified experience for viewers using ad blockers

Wikia is not accessible if you've made further modifications. Remove the custom ad blocker rule(s) and the page will load as expected.